Project Access Nashville is a collaborative effort between the Nashville Academy of Medicine/ Medical Foundation of Nashville, the Metro Nashville Public Health Department, and the Safety Net Consortium of Middle Tennessee.
Primary Care:  Project Access Nashville connects the uninsured to primary care safety net clinics that serve patients based on their ability to pay.  The network of providers offer and array of primary care services, which include disease management, treatment of acute episodic conditions and access to pharmacy services.  There are also specialty care services offered to those who qualify. Choosing  primary care doctor or clinic is an important decision. Together, you and your doctor will go about the serious business of managing your health. Additionally, having a primary care doctor can help you avoid going to the emergency room and the high costs of emergency room visits.  Through Project Access Nashville Primary Care, you can find a clinic that meets your need based on location, hours of operation, language, and charges.
How to Get Help
You can register for health care by calling (615) 313-9972 (Health Assist), or if you live in Davidson County, you can also choose a clinic by having an in-person conversation with Project Access Nashville staff at Lentz Public Health Center in Room 117.  
You can also pick up a Project Access Nashville application at any local health department.  We will provide you with information about the location, services, hours of operation and charges of the clinic you select.  Additionally, we also provide information about how to obtain prescription medications for a nominal co-payment either at the medical home clinic you select or at the Project Access Nashville pharmacy.
How to see a specialist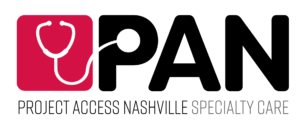 Project Access Nashville Specialty Care (PANSC), a program under the leadership of the Nashville Academy of Medicine and the Medical Foundation of Nashville, provides a coordinated system of care to low-income, uninsured residents of  Middle Tennessee. Through these partnerships, PANSC has established a referral process that  allows more than 30 clinics to refer patients for needed specialty care through a network of community-based physician specialists, collaborating hospitals, and ancillary partners.  The response and results of this program have been striking. Since its April 2005 inception, we are proud to report over $48 million in care has been donated to thousands of uninsured Middle Tennessee patients by more than 1,500 physicians and their affiliated hospitals and laboratories.
The doctor at your assigned clinic must send a referral to the Project Access Nashville Specialty Care office.  PAN Specialty Care staff will review the referral to see if you are eligible for a specialist based on your income.  If you qualify, an appointment will be scheduled with a specialist. For more information on specialty care, please call (615) 712-6237 or visit their website.