Mission
The mission of the Safety Net Consortium of Middle Tennessee is to make Middle Tennessee healthier by bringing together health care providers, public sector agencies, academia, and community-based and other organizations to advocate, build capacity and coordinate efforts to improve the health of the medically underserved. Through this work, the consortium strives to make Middle Tennessee a place where all residents, including the uninsured and underinsured, have access to high quality, affordable health care.
Resources
If you are looking for high quality, accessible, affordable health care in Middle Tennessee, the
My HealthCare Home website
is the place for you! With over fifty clinics located around Middle Tennessee, caring and dedicated staff are close to you and your family.
Project Access Nashville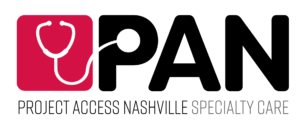 If you are uninsured and living in Middle Tennessee, Project Access Nashville is here to help you. Project Access Nashville is a collaborative effort between the Nashville Academy of Medicine/ Medical Foundation of Nashville, the Metro Nashville Public Health Department, and the Safety Net Consortium of Middle Tennessee.  Click here to learn more.

The Affordable Care Act (ACA) is the nation's health reform law enacted in March 2010.  Millions of families will qualify for free or low-cost healthcare insurance. Families with eligible income can still enroll and find affordable options, depending on their income. For more information about how to get insurance in Tennessee please visit GetCoveredTenn.org or call 844-644-5443.  The Marketplace is available on HealthCare.gov and CuidadoDeSalud.gov.   Families and small business owners can visit these websites for open enrollment. A toll-free call center is also available to help answer questions 24 hours a day, seven days a week at 1-800-318-2596. There are representatives who can answer questions about the Marketplace in 150 languages.

One of the easiest ways to get help is by dialing 2-1-1, Tennessee's community services help line. When you call, you'll get a real person, one who is trained to help you sort out your needs, and then give you phone numbers and addresses of the closest places where you can get help. Use the link above to view the directory of help centers.
Did you know the Safety Net consortium has been operating since 2000?  Click here to read about our history.